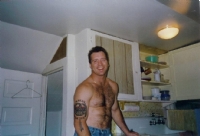 Name:

John Reamer

Gender:
Male
Race:
Indian
DOB:
1968
Age:
25
Height:
5ft 11in
Weight:
180 lbs
Hair:
Brown
Eyes:
Brown
Case: Helena Police DR# HP031679/NCIC #M-482934384

Missing Persons As Of: 03/27/1994
Circumstances of Disappearance Reamer`s girlfriend dropped him at his apartment on Wilder Street in Helena the night of Sunday, March 27, 1994. He had spent the weekend with her, and their son. She was surprised to find a man she didn`t know at Reamer`s apartment when she dropped him off. She thought Reamer might have known him from a video rental store where Reamer often rented Nintendo games. On Monday morning, his girlfriend and her mother talked to Reamer before he left for school. Neither of the women detected anything out of the ordinary during their brief conversation with Reamer. That was the last time they talked to him. They tried calling on Tuesday and Wednesday but got no answer. Reamer`s next door neighbor recalls last seeing Reamer come home on the night of March 27. The woman said she intended to make breakfast for Reamer and her son Monday morning before the pair went on a short fishing trip, but Reamer didn`t answer his door that morning. On April 4th, he was reported missing. In his apartment were items including Reamer`s billfold and his school books. His vehicle also was parked outside the residence. But his favorite cowboy hat was missing.